56th Parallel is an Independent travel company specialising in travel to Russia, with offices in Sydney and Moscow.
Why
We're driven by travellers who are seeking a wholesome and unique travel experience in Russia. Our goal is providing seamless, life enriching travel.
Experiencing it ourselves by returning many times to various destinations in Russia since 2002, we felt that there is a big knowledge gap in the market regarding Russia as a travel destination. We decided that people deserves to know and experience real Russia.
---
Who
Our company was founded by Michael Schneider who is Australian with Russian background. Your trip designers consists of destinations specialists and pro guides, all bilingual and passionate for sharing Russia with you.
---
Where
56th Parallel tours take place in stunning locations, using masterfully crafted itineraries, each including the best travel ingredients available, never stopping to evolve, always adding something special to your trip.
---
Peace of Mind
Our experience and strong long established connections allow us to deliver quality and value. That said; we are not in the game of competing for the cheapest available rate. The service and care we provide to every trip we put together goes far beyond what is usually offered.
When you book a tour with 56th Parallel your funds are deposited into a Client Trust Account with Commonwealth Bank of Australia. Your funds are securely locked away until we are required to pay for your travel arrangements. We are not utilising your funds for operations of our business until all your travel arrangements have been settled and your travel has commenced.
---
We are bonded
56th Parallel ATAS accreditation #A13275. ATAS is a travel industry accreditation scheme that sets the benchmark of quality for the travel industry. Those that meet the requirements are awarded national accreditation and receive the right to use the 'ATAS – travel accredited' branding, a symbol of quality and professionalism.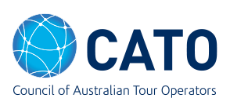 56th Parallel is a Member of CATO. An organisation whose members are Tour Operators or Tour Wholesalers. They have specialised expertise in all aspects of travel, to a particular destination and supply travel and tour packages to domestic and international destinations.
56th Parallel is a member of AFTA, the Australian Federation of Travel Agents Limited (AFTA) is the peak body for Australia's travel agents, it represents travel agents in Australia. Founded in 1957, AFTA's aim has been to stimulate, encourage and promote travel, and to uphold the interests of travel agents who form a vital part of Australia's highly specialised travel and tourism industry.
56th Parallel is a member of the ATTA, an organization that nurtures and professionalized the responsible and sustainable development of the adventure travel industry. The ATTA believes adventure tourism contains three main components for the traveler: 1) physical activity, 2) a connection to nature and the environment, 3) An immersive cultural experience. 56th Parallel tours align well with all of these components.